Thomas H John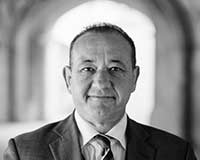 Further information
---
About Thomas
Thomas had practised as a member of the Royal Pharmaceutical Society for 11 years before and during reading for the Bar and continues to write articles for the Pharmaceutical Press. He is presently a revising editor for Dale and Appleby's Pharmacy Law and Ethics, the leading work in law relating to legal and ethical principles applicable to Pharmaceutical practitioners. Thomas was called to the Bar by the Honourable Society of the Middle Temple in 1997. Pupillage at Gower Chambers in Swansea (pupil master Mr Andrew Clemes) and at Barking Magistrates Court (pupil master Mrs Anne Nasser) and obtained his first Practising certificate in 2000.


Crime
Thomas has extensive experience in all aspects of criminal practice including advisory work, drafting (including Indictments and Appeals to the Court of Appeal), and advocacy for both prosecution and defence. He has appeared in multiple crown court trials, appeals for both prosecution and defence and has also amassed approaching 2,000 Magistrates Court prosecution lists since first entering practice.


Civil
Thomas' experience covers advisory and advocacy work in approaching 200 Mental Health Review Tribunal hearings on behalf of Applicants, for both civil and restricted patients. He has also appeared in multiple Employment Tribunals and the Employment Appeal Tribunal on behalf of both Applicants and Respondents. He also has experience as an advocate on behalf of several Respondents to extradition proceedings including on statutory appeal to the Administrative Court. Thomas has been able to undertake Direct Public Access work since 2007. He is bi – lingual in the English and Welsh languages and has experience of Court proceedings conducted in Welsh.


Education
University of London 1979 – 82 (B.Pharm. (Hons.))
Polytechnic of East London 1989 – 91 (M.Sc.)
University of London (External Programme) 1993 – 6 (Ll.B. (Hons.))
Inns of Court School of Law 1996 – 7