Thea Viney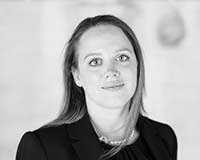 Practice profile
---
About Thea Viney
Called in 2006 Thea has been a tenant of Blackfriars Chambers since completing pupillage.
She has developed a predominantly criminal prosecution practise and has been a member of the CPS Panel of Advocates since the scheme began. She is instructed by the Crown Prosecution Service and appears in Crown Courts across London on a daily basis in a wide range of cases involving serious violence, drugs, sexual offences and offences of dishonesty and complex areas of law.
Thea prides herself on her witness handling skills both in and out of the courtroom and has always had a particular interest in cases involving vulnerable adults and children.
She has built strong professional relationships throughout the CPS and, although her practise is now Crown Court based, is still asked to appear in high profile Magistrates' Court Cases which have attracted considerable media attention.
Examples of recent cases prosecuted for CPS
>
R v C (2016) Central Criminal Court Robbery of a post office where the evidence was circumstantial and turned largely on a successful bad character application. This Resulted in Conviction and a sentence of 13 years using the new guidelines.
R v G (2016) Blackfriars CC Sexual assault on the tube. Resulted in conviction.
R v P (2015) Central Criminal Court ABH in a domestic context involving a hostile witness and the admissibility of a 999 call. Resulted in conviction
R v T & others (2015) Wood Green CC S.18 following a dispute in a nightclub involving defendants of good character and witnesses whose memories were impaired by alcohol
R v J (2015) Central Criminal Court Conspiracy to commit ABH where the defendant had not been involved in the actual violence. Resulted in conviction. The Defendant appealed and, following submission of my Respondent's notice, leave was refused.
R v M (2014) Snaresbrook CC The Defendant was charged with Arson in a stalking context where he had previously been convicted of harassing the complainant. She was especially vulnerable and been placed in witness protection. The case involved presentation of cell-site evidence and complex, disputed bad character. The Defendant was convicted and received a 7-year custodial sentence.
R v L&H (2015) Southwark CC Appeal against conviction centred around the G8 summit. This matter involved an "in camera" PII application relating to police intelligence. The PII application was successful and the appeal was ultimately dismissed
In addition to court work Thea is a committed member of chambers. She is on the pupillage and finance committees and has completed the pupil-supervisor and fair recruitment training courses.