Paul Adams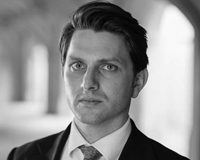 Practice profile
---
About Paul Adams
Education
Bar Professional Training Course, City Law School
Masters in Law, Queen's University Belfast
BSc Management with German (Hons), Queen's University Belfast

Called 2013
Paul became a member of Chambers in October 2016 following successful completion of pupillage. He accepts instructions on behalf of the prosecution and defence in the Crown, Magistrates' and Youth courts across London and the South East. He is a CPS Panel Grade 1 and also prosecutes for the National Probation Service.

Paul's practice covers all areas of criminal law, often prosecuting, including violent crime, sexual offences, fraud and dishonesty offences, drugs and proceedings under the Proceeds of Crime Act. Paul also has an interest in regulatory and prison law.

Recent instructions include successful prosecutions for sexual assault of a female under 16, dwelling burglary, a series of multi-handed knifepoint robberies in the youth court, and prosecutions under the Dangerous Dogs Act. Paul is familiar with the provisions of the Mental Health Act issues surrounding fitness to plead and abuse of process in that area.

Prior to commencing pupillage, Paul was a legal assistant in the regulatory department at a leading firm of solicitors. His role involved investigating and preparing fitness to practise cases on behalf of a number of healthcare regulators, including the HCPC and GDC.

Paul also spent time as a paralegal at Kaim Todner solicitors, where he assisted with extradition matters and in defending high-profile cases brought by the SFO, HMRC and the NCA. Paul also appeared regularly before the parole board and at prison adjudications.

In his spare time Paul enjoys travel, alternative rock and electronic music and film.