James Benson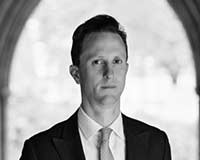 Practice profile
---
About James
James practises criminal law, specialising in trial advocacy. He is a grade 3 member of the CPS Panel of Advocates, and receives regular instructions to prosecute offences involving serious violence, drug trafficking and fraud.
Notable cases
James has considerable experience in the Appellate courts, having appeared frequently before the High Court, the Administrative Court and the Criminal Division of the Court of Appeal. Examples of appearances include:
R (Martiner) v DPP [2005] A.C.D 263(65), Q.B.D - appeal successfully resisted from an Appellant claiming medical reasons for failing to provide a sample for drink drive analysis.
DPP v Sharma [2005] R.T.R 27, QBD - appeal unsuccessful against decision of justices to allow a special reasons, 'laced drinks' argument, where the Respondent was over double the drink drive limit.
R v Lamaletie (Mervyn) [2008] All ER (D) 425 - appeal against conviction successfully resisted and precedent set for the admissibility of a defendant's previous convictions.
R v Junior Lodge [2013] EWCA Crim 987 - appeal against conviction successfully resisted by treasury counsel on point taken as trial counsel regarding the admissibility of a prosecution witness' good character.
R v John Webb (2014) - successful prosecution appeal against a terminating ruling.
R v Carter (Layla) (2015) - appeal against conviction successfully resisted where the Appellant sought to admit fresh expert evidence.
Additional information
In addition to those cases listed above, James has recently secured convictions in a multi-handed violent disorder (R v Ellis & Others, Southwark Crown Court, March 2015), a high value, widely-publicised, multiple-victim courier fraud (R v Mohib & Rahman, Southwark Crown Court, July 2015), and a wide- ranging drugs conspiracy (R v Anwar & Adan, Harrow Crown Court, January 2016).