Daniel Irving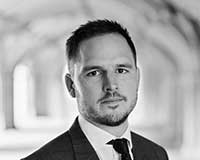 Practice profile
---
About Daniel
Daniel is currently instructed as junior counsel to the Undercover Policing Inquiry chaired by Lord Justice Pitchford. Daniel is security cleared to 'Developed Vetting' (DV) level and has extensive experience advising government on their regulatory obligations, on large-scale and complex issues of disclosure, LPP, PII, the duty of candour and in relation to high-profile Public Inquiries. He is regularly instructed by the Government Legal Department, Foreign and Commonwealth Office, Ministry of Defence, Serious Fraud Office and HMRC.
Daniel is frequently instructed by the Prosecution and Defence to conduct criminal trials in the Crown, Magistrates and Youth Courts. He is a CPS Panel 'Grade 2' Prosecutor and has extensive experience handling vulnerable witnesses and defendants.
Daniel accepts instructions in parole hearings and prison law proceedings, in Employment Tribunal hearings for both Claimant and Respondent, and in civil applications (particularly where they overlap with the criminal law).
Public Law, Regulatory and Advisory:
Undercover Policing Inquiry. Junior counsel to the Inquiry.
National Security and Counter-Terrorism. Instructed to consider and review evidential material held by New Scotland Yard following an historic criminal investigation and advise on the exclusion provisions under the Refugee Convention. Instructed in Naturalisation cases currently before the Special Appeals Immigration Commission ('SIAC') and in relation to asset freezing orders.
The Iraq Inquiry. Instructed by the Government Legal Department to advise and assist a witness to the Chilcot Inquiry (a 'Maxwellee') in drafting his response to criticism contained within the Report. Involved considering and analysing all the evidence originally before the Inquiry and assessing the basis for the conclusions reached.
Serious Fraud Office. Instructed as Junior Counsel to analyse, review and prepare evidential material in a multi-million-pound City Investment Fund fraud at Southwark Crown Court which resulted in the first convictions under the Bribery Act 2010.
Foreign and Commonwealth Office. Instructed to advise on, and respond to, a vast and complex Data Protection Act 'subject access' request from WikiLeaks founder, Julian Assange. Subsequently instructed to write a Guidance Paper for FCO staff on disclosure under the Data Protection Act.
Crime
R v Kargbo (Croydon Crown Court). Prosecution - Section 18 Wounding. Defendant convicted after trial. Bottle smashed over 'Good Samaritan' assisting someone who had been robbed of his mobile phone. Judge expressed how impressed he was with the thorough preparation of the Prosecution case.
R v Brazier and Whittaker (Snaresbrook Crown Court). Prosecution - 2 week GBH trial involving a stun gun. Complex legal argument surrounding the admissibility of hearsay evidence. Secured convictions against both defendants.
Employment law
Ahmad v 24 Seven Security (East London Employment Tribunal). Represented the Respondent in claim for constructive dismissal and racial discrimination.
Tait v Ministry of Defence (Central London Employment Tribunal). Instructed by the MoD to interview senior army officers and draft statements in response to a claim alleging discrimination and harassment based on sexual orientation brought by a female army officer serving in Iraq.
Education
LLB (Hons), University of East Anglia
International, European and Human Rights Law, Leiden University (The Netherlands)
Benefactors' Scholarship, Middle Temple
BVC Accommodation Award (3 Temple Gardens), Middle Temple
Before coming to the Bar Daniel worked for Deutsche Bank drafting contracts for Energy Derivative trades.